In 2006, Robert von Goeben, a venture capitalist and an electronic toy designer in San Francisco, contemplated shifting course again. Instead of making more toys that required electricity and intricate parts, he listened to his wife and created a simpler line that would appeal to parents who identified with the green movement. More and more parents are starting to look at toys like they look at food. A toy used to be a plastic thing and parents did not question what was in it. Now green has gone mainstream, and parents want to know what is in their toys.
In August 2006, Mattel Inc. recalled more than 10 million Chinese-made toys, including the popular Barbie and Polly Pocket toys, because of lead-paint hazards and tiny magnets that could be swallowed. The US government warned parents to make sure that children would not play with any of the recalled toys
As questions about toy safety made more headlines in 2007 with recall of more than 17 million Chinese-made toys, von Goeben partnered with former marketing executive Laurie Hyman, a business acquaintance. Green Toys Inc. was profitable from its first year on.
Together Robert von Goeben and Laurie Hyman founded Green Toys Inc. in 2006 and started right away with manufacturing of eco toys from recycled plastic milk jugs.
In November 2013 the private investment firm, The Friend Group (represented by the businessman Howard Friend), bought a majority stake in Green Toys Inc. but still Von Goeben and Hyman maintain their duties until today (February 2016).
The founders of Green Toys Inc.
The two co-founders of Green Toys – Robert von Goeben (responsible for product) and Laurie Hyman (responsible for marketing) – have different backgrounds and competences:
Robert von Goeben was the founder of Propellerhead Studios, a leading Silicon Valley design studio specializing in electronic toys and games. At Propellerhead Studios, he worked with many major toy companies, including Mattel and Wild Planet. Before that, he was the founder and managing director of Starter Fluid, a seed-stage venture capital fund backed by institutional and corporate investors, including Compaq computers and the University of Chicago. Von Goeben's career began in the entertainment industry where he started and managed the online division of Geffen Records. He has an MBA from the University of Southern California and a BA in Mathematics from the State University of New York. He holds two US patents in the field of toys and games.
Laurie Hyman used to work as a marketing executive for several online consumer-marketing companies, including, most recently, Ingenio, a pioneer in combining the power of the internet and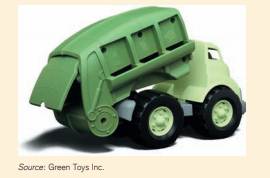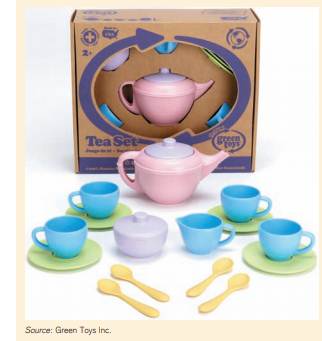 phone to connect buyers and sellers. Before that, she was the first member of the marketing team at Webvan, where she managed relationships with some of the world's largest consumer packaged goods companies, including P&G, Nestlé, CocaCola, Kraft, General Mills and Pillsbury. Hyman also served as the director of marketing at Goodcompany.com, one of the internet's first online social networks. She has an MBA from the University of Southern California and a BA in Business from Indiana University.
Green Toys Inc. today
Green Toys Inc. makes a line of classic children's toys constructed from recycled plastic and other environmentally friendly materials. This helps reduce fossil fuel use and greenhouse gas emissions, improving the overall health of the planet. In 2014, the company had a turnover of approximately US$20 million. At that time the average number of employees was 80.
Unlike its half-dozen eco-friendly competitors that manufacture or buy raw materials for their toys overseas, Green Toys contracts only with companies in California. Sourcing locally means burning less fossil fuel and creating or maintaining more US jobs. Green Toys can also track the chemical content of toys better than its counterparts.
Green Toys' customers and marketing strategy
Green Toys' key customer segment consists of parents between the ages of 25 and 40, and they are predominantly female. The largest part of these mothers is well-educated and online. The whole world of bloggers, especially parents, who are blogging and searching online about products and trends for their children, is huge.
Green Toys' products are about 30 per cent more expensive than similar toys from major players. Green Toys should be able to narrow that price difference by at least two-thirds as the company grows and it can utilize 'economies of scale', though it is unclear how popular its market segment will become. In 2014 eco-friendly toys generated just US$40 million in sales, a fraction of the US$22 billion for the US toy industry as a whole.
Green Toys' products are sold in 5,000 US stores, including Pottery Barn, Barnes & Noble, Whole Food and Buy Buy Baby. Some of the biggest Green Toys retailers are also selling online. Consequently, the majority of the Green Toys' marketing budget is spent online.
Green Toys' internationalization strategy
Green Toys also has distributors in 35 countries, but until now 90 per cent of Green Toys' sales have been from the US market. Until now Green Toys has had no plans to move production out of the US. However, in the future they do not exclude the possibility of manufacturing abroad with local sourcing of materials.
The following report explains current and future trends in the global toy industry.
The global toy industry
In 2014 the size of the global toy market was US$ 84 billion.
Development of Green Toys' end-customers: the world's children
The global child population has been declining due to falling family sizes: globally, birth rates were 19.6 per 1,000 people in 2010 compared with 21.8 in 2000, while fertility (the average number of children per woman) was 3.0 in 2010 compared with 3.4 in 2000. The world total of children aged 0–14 shrank in the first decade of the new millennium, dropping, on average, by 0.1 per cent per annum. This is a comparatively recent trend, as the child population grew 0.6 per cent per year between 1990 and 2000 and 0.1 per cent per year between 1980 and 1990. As of 2010, 0–14 year-olds made up 26.3 per cent of the global population compared with 35.2 per cent in 1980 (see Table 1).
This trend reflects cultural and social changes towards smaller family sizes in both developed and developing markets. Regionally, Eastern Europe has seen the largest decrease in the child population, at an annual average rate of 2 per cent between 2000 and 2010, which is partly due to large-scale migration to Western Europe and also due to the transition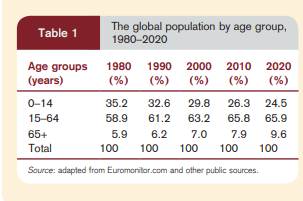 period from communism in the 1990s and 2000s when fertility and life expectancy fell due to economic hardship.
However, many of the world's developing countries still have sizeable and rising child populations. The child population in some developed countries is also rising.
The overall downturn in the child population globally has meant smaller household sizes and greater consumer expenditure per child, which has created more allowance for discretionary spending on nonessentials for children. This has important implications for toys and games companies targeting parents of 0–14 year-olds. The number of 65+ yearolds rose by an average of 2.5 per cent annually from 2000 and 2010 to account for 7.9 per cent of the total population globally. By 2020, this group is forecast to account for just fewer than 10 per cent of the global population.
In absolute terms, Asia-Pacific and the Middle East and Africa are the biggest regions in terms of 0–14 year-olds, followed by Latin America. In 2014, more than 128 million babies were born in the world and Asia-Pacific accounted for more than half. The Philippines, Egypt and Saudi Arabia are the top three countries in terms of birth rates, recording between 23 and 25 per 1,000 inhabitants. Over the period 2009–2014, birth rates declined in most countries, but continued to be high in young fastgrowing markets, such as India and South Africa, where there were around 21 births per 1,000 inhabitants in 2014.
By contrast, in the ageing developed markets of Germany and Japan, the birth rate was extremely low, at just eight births per 1,000 inhabitants in 2014. Russia is unusual in that it is one of the very few markets where the birth rate increased substantially over the review period, from 10.0 births per 1,000 inhabitants in 2003 to 13 births per 1,000 inhabitants in 2014.
Between 2004 and 2009, Russia, Spain, Australia and the UK all recorded over 10 per cent increases in their 0–4 year-old populations. Spain was the third country globally with a 15 per cent increase in its 5–9 year-old population in the past five years.
For a number of years, birth rates have been falling around the world, as women wait longer before having children. Young adults can now afford interests and lifestyles that are not compatible with large families, not only in more affluent countries, but also in a number of developing countries. They often choose to postpone childbirth, in favour of building a career or simply enjoying their freedom.
The oldest mothers at first childbirth in the world are in western Europe, specifically the UK, Germany, Switzerland and the Netherlands. By contrast, the average age of women at first childbirth in the US is relatively low, at 25 years in 2014. This is partly due to the importance of the Hispanic population, which tends to have larger families from an earlier age.
Spending on Green Toys' target endconsumers: the world's 0–3 year-olds The distribution of total spending on 0–3 year-olds (baby care, infant clothing, baby food, nappies/diapers and toys) is shown in Table 2.
There are 'two worlds' of spending: the markets of western Europe, North America and Japan where, despite low birth rates, spending is high, and the fast-growing markets of Asia-Pacific, Latin America and Middle East and Africa, where children are plentiful and spending is much lower. The top five countries (Germany, UK, France, Japan and US) all recorded over US$1,500 per-capita spending on 0–3 year-olds.
When fewer babies are born into a family, they are often more cherished, with more money spent on them by both parents and grandparents alike. One of the best examples of this is the so-called 'little emperor' syndrome in China. Children in China tend to get spoiled with toys and clothing when they are young (according to Table 2, toys for 0–3 year-olds represent 26 per cent of total spending for this age group). As they get older they are spoilt in different ways, including with mobile phones, education and leisure activities. That said, there are many, especially in rural areas, who are not spoilt at all.
Many parents in Asia believe that pre-school toys can increase a child's intelligence and improve cognitive ability, benefiting the child at school later on. Most parents in cities pay much more attention to the role of toys and games in supporting their children's education and stimulating their intellectual development, encouraging manufacturers to develop a plethora of toys for the pre-school age group.
China is the most fragmented traditional toys and games market in the world. Although overall unit prices recorded a decline in 2014, thanks to the 'little emperors', more expensive toys have been gaining ground. Almost all multinational players, including Mattel, Namco Bandai, LEGO and Hasbro, enjoyed very high growth in their sales in China
In countries where the average number of children per household is higher than one, spending on traditional toys and games per child does not exceed US$50 in a given year.
Overall, the older the average age of a woman at childbirth, the higher the spend on traditional toys and games per child. As modern mothers continue to work, for various reasons, the limits on parental time require products that can fill this gap.
Single-parent households tend to be among the poorest, creating a need for cheaper products. Lowpriced, high-volume toys tend to find success in markets where single-parent households are more common.
Distribution of toys
Supermarkets/hypermarkets have continued to expand their toy and game offerings and their private label portfolios. However, sales of toys and games through store-based retailers are being affected by the growing popularity of new distribution channels, such as the internet retailing and TV home shopping.
In North America, the strength of retail giants WalMart and Target greatly contributed to the large share held by mixed retailers in 2009. The increase in Wal-Mart's market share slowed in 2014 as supermarkets, drug stores, hardware retailers and online outlets expanded their offerings of traditional toys and games.
Store-based retailers are increasingly backing up their brick-and-mortar sales efforts by offering online shopping. They have found that online sites help them to promote niche brands and gain wider market

exposure. Online sites also help consumers compare prices and features of new toys and games. In Japan, the rapid growth of internet retailing has helped drive sales of the newest video game releases.
The convenience of home shopping appeals to a wide range of consumers, especially older consumers. For distributors this channel is growing in importance, as it helps build brand image.
Generally there is an increasing share of grocery retailers in the toys and games sector in many countries. Grocery retailing is slowly becoming the most popular channel in the western European retail sector.
Italians still prefer making in-store product purchases. The only significant development in the country's distribution channels over the past 10 years has been the rise of grocery retailers, who have increasingly varied their non-grocery offerings, including toys and games. In France, the fastestgrowing channel has been leisure and personal goods retailers, with growth driven by the development of specialized toys and video games centres. Approximately 800 specialized toys and games stores opened between 2010 and 2014, an indication of the sector's dynamism.
The leading toy distribution channel in Germany is also leisure and personal goods retailers. Though online shopping has increased in Germany, most consumers still prefer to see and feel the products they are buying. In addition, consumers welcome the opportunity to get professional opinions and advice on product quality and features from in-store staff.
In Russia specialist retailers are developing rapidly. The most popular places to buy toys and games are retail chains, followed by shopping centres. Specialist distribution channels are more popular in the main cities of Russia where the population is generally, 1 million and more. In smaller cities, non-store distribution is still popular.
In Latin America, hypermarkets and other grocery retailers enjoyed increased toy sales, especially during the end-of-the-year holidays and Children's Day, when important advertising campaigns are conducted and discounts and special deals are increasingly offered.
In Brazil, specialist stores control an important part of the market due to the expansion of toy stores in large cities. The concentration of this format has strengthened the competitive environment, encouraged a greater variety in product offerings and lessened the impact of the seasonality on sales.
Generally, in Latin America specialist toy retailers remain the most important channel, based on their offering a greater variety of products. Also, they are easy to find as they are located in a greater number of retail venues, particularly shopping centres.
Competition in the toy industry
The world's top 10 toys and games companies accounted for nearly half of the global total value of sales from 2010 to 2015. Mattel, LEGO and Namco
Bandai held the top three positions.
Summary and future trends
Infant and pre-school toys will remain recessionproof as parents continue to invest in their children's enjoyment and education.
Environmentally friendly, hazard-free features will continue to be among the main selling points of traditional toys and games.
Multinational companies will weather the storm brought about by the global financial crisis. Consolidation is expected in the sector, with mergers and acquisitions of small and independent companies likely.
Sales via internet retailers are expected to grow dramatically over the forecast period, particularly in light of the demise of small and independent toys and games retailers.
Based on this case and the toy industry trends, answer the following questions.
1. What are the key success factors in the world toy industry?
2. What are Green Toys' key competitive advantages in the international toy market?
3. Should Green Toys Inc. consider a higher degree of international expansion of their products?
4. If yes, which countries/regions should they target and how?